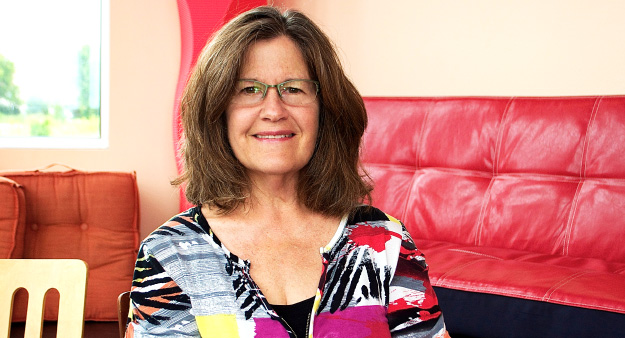 I got my start at Dragonfly last spring when I was experiencing thyroid problems and somewhat sleepless nights. My daughter suggested I give hot yoga a try. I had previously taken a yoga class at my former workplace, but it was hard for me to follow along, as I am a lip reader and have been deaf since birth. I gave yoga another shot at a different studio after winning a gift certificate and started to enjoy the practice more, but they did not have very many classes every day for the expense.
Looking for a studio closer to my neighborhood, one free class and unlimited month later, I found myself a yoga home at Dragonfly with their large and varied class schedule. The instructors have been so helpful and welcoming, and I am hooked and haven't looked back since!

Slow Flow, Chakra Flow, Yin and Core Flow are some of my favorite classes, and I have also recently done Stand Up Paddle Board Yoga and Michelle's class at the zoo. Both were fun experiences, especially in the fresh air with a little breeze. One of my yoga milestones has been completing a 30-day Challenge, and now I am working on my 99-Days of Summer Challenge. I look forward to continuing to broaden my yoga horizons, perhaps by trying the two classes I haven't yet, Pound and MadPower Training.
I love the heat and sweat that come with the hot classes, and they are good for my thyroid and overall well-being. It is a great way to exercise without going to the gym and way better than stretching at home. Yoga inspires me to do more, to improve and push myself. As a result, I experience a lot less stress, my back and hips have improved, and I sleep better at night. I also have increased arm and other strength, which was helpful while kayaking the other weekend. I wasn't even sore afterward. My massage therapist also commented on how it's improved my condition in some trouble areas.
In my spare time I make beaded jewelry and love to ride my bike, hike, travel and take pictures. I have been married for 32 years, and we have two adult children, both of whom are recently themselves married.
I am very happy to be nominated as Yogi of the Month and to be a part of the Dragonfly family!
Instructor Will Harris: "I always look forward to seeing Jean in class. She has been dedicated to discovering the many intricacies of a yoga practice and works a lot on alignment. I see her almost every week, and it has been fun to watch her practice grow from a beginner to now where she is beginning to try more challenging poses. Jean is super friendly, and always puts me in a good mood before and after class, sharing photos, stories and discussing yoga."