June 14-20, 2021
Daily giveaways and sales all week!
We did it! Dragonfly is turning 10 and we couldn't have done it without you. We want to celebrate with a week of sales and giveaways! Sign up for memberships, get a deal on one month of classes, or win a cool prize from a local business and a private class all next week! Thank you for making Dragonfly such a special place, here's to 10 more years!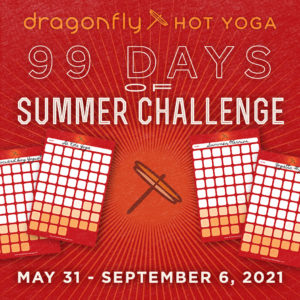 May 31 – September 6, 2021
40, 50 or 60 Classes in 99 Days
Be entered to win Dragonfly classes, up to a free membership for one year!
This past year has been hard, to say the least. As everything starts to open back up, get back on the mat and back to yourself with our 99 Days of Summer Challenge! Summer is almost here, and we know it can be the hardest time of year to keep up a yoga practice, even in the best of times.
We are bringing our summer challenge back to keep you motivated, inspired, and connected! We're changing things a bit this time – challenge completers will be entered into drawing for free Dragonfly services! (We promise the shirts & swag will be back next year if we are back to normal!) So join us! It could be the most valuable gift you could ever give yourself.