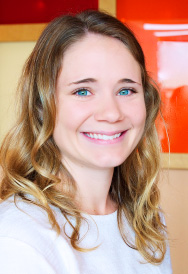 Sammy Hensen
Staff
Experience
I started practicing yoga on my own in college and found that it helped me in all aspects of my life. I wanted to share this practice with others and thus received my 200 hour CYT at Dragonfly Hot Yoga in 2015 and have been in love with teaching ever since. My teaching journey took me to Milwaukee for a year, where I taught yoga at different fitness studios to bring yoga as an adjunct to healthy workout practices. I moved to Fort Myers, Florida in May of 2016 to pursue my degrees as a Physician Assistant and Master of Public Health, and I taught yoga and Pilates while there for two years. I am now back home in Wisconsin and happy to be sharing what I learned in my training with Tiffany Geier and throughout my different teaching jobs over the years. I want to share yoga and all that comes with it within the Dragonfly community – whether that be challenges in life and practice, happiness, personal growth, physical change, or more balance (whatever that may mean to you!)
Favorite Pose
Dancer Pose – This is such a strong pose that allows you to feel open and free in a way that also provides balance and grounding.
Favorite Quote
"The best way to find yourself is to lose yourself in the service of others."
– Mahatma Gandhi
Why I Love Dragonfly
I love Dragonfly because it is a community of people that accepts everyone no matter what their background is or what walk of life they're from. It is a safe place where people can grow in their yoga practice and in their own lives without judgement from others. There is an incredible happiness you feel when you walk into the studios, and that is something so special!
Little Known Fact About Me
My favorite place to travel is to Guatemala with the non-profit organization Outreach for World Hope.