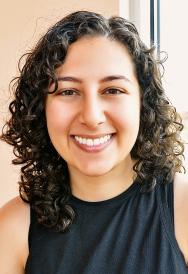 Nikki Noughani
Instructor
certifications
RYT200

My Teaching Style
My single biggest motto with everything I do is kindness, and I really try to bring this into my classes, whether with a short love and kindness meditation or just awareness to places of tension. I love giving hands-on-assist, mostly because I can physically watch students reach the true boundaries of their bodies as opposed to what their mind had told them. As an ex-ballerina I am a huge fan of balances, so there will usually be a few in every class. My goal with each class is for the students to move with intention, purpose, and to find presence in the room. The world is moving fast and we have to think ahead constantly, so why not enjoy these 60 minutes here and now while we can?
Experience
My yoga practice began when I started college in 2015. I had decided to stop with ballet as high school ended and was looking for something to replace that gap in my schedule. I found DragonFly as a student and it was my little sanctuary from the new pressures I was facing as a university student. The flow classes were my immediate favorites, as they reminded me of a choreographed dance. I became a certified yoga instructor through the DragonFly summer intensive training in 2019 with the hopes of improving my own practice and discovered a love for teaching. And here I am, grateful to be learning each day both as a student and a teacher.
Favorite Pose
Dancer - I love balancing poses because they really show you where your attention is. If you are even the slightest bit distracted you will feel it in your standing leg. Dancer is great in particular because it's a paradox; you have to both push and pull to reach your limits in this pose. I love the equalizing nature of this movement. It is a balance in all senses.
Why I Love Dragonfly
I love the positive space yoga creates, and DragonFly in particular does a great job of doing this. The motto, "Every shape, every size, every person," is so important when it comes to a yoga practice, because yoga starts in the mind first and foremost, and it can be easy in a physical activity to try and compete or compare. It was important to me to find a space where the only challenge each practice was finding where I could go that day, and I found it at DragonFly for sure.
Little Known Fact About Me
I study astronomy and whenever my mom is asked about it she loves to answer, "Well, she always had her head in the clouds!"
Nikki Noughani's Class Schedule