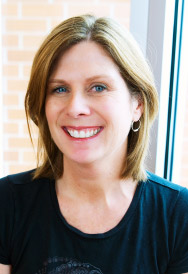 Miriam Navin
Staff
Experience
I am a full time elementary teacher in Madison, and while I love the hustle and bustle that comes with spending time in the presence of creative, enthusiastic young people, my workday can be stressful. A friend brought me to my first hot yoga flow class 2 years ago, and I loved it. The combination of heat, balance, breath control and physical strength was exactly what I was looking for to compliment my busy workday. I am delighted to join the Dragonfly team!
Favorite Pose
Chaturanga
Favorite Quote
"People will forget what you said. People will forget what you did. But people will never forget how you made them feel."
– Maya Angelou
Why I Love Dragonfly
There are many things to love about Dragonfly. The studios are clean, bright, and peaceful. There are a variety of classes that offer different ways to push you to the edge of your physical limits. Knowledgeable instructors guide you through your practice and provide accommodations and variations that fit each person individually. The desk staff are welcoming and friendly.
Little Known Fact About Me
I was an extra on an episode of the tv show Unsolved Mysteries in the mid 90s. I love the smell of old books. I'm really good at parallel parking.