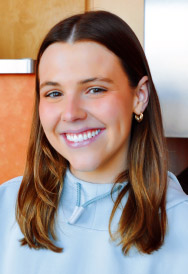 Meagan Selinger
Staff
Experience
I began practicing yoga about seven years ago! Growing up as a soccer player, I had a need for alleviating muscle soreness and increasing strength and flexibility. Yoga allows me to do just that! Coming back to my mat consistently has given me a space to practice mindfulness, gratitude, and to be intentional with my movements both in and out of the classroom!
Favorite Pose
Pigeon
Favorite Quote
"Gratitude can transform common days into thanksgivings, turn routine job into joy, and change ordinary opportunities into blessings."
– William Arthur Ward
Why I Love Dragonfly
Dragonfly has been the perfect outlet for me to get connected with the local community while doing something I love. I feel like I can always make a new friend at every class! From the instructors to the desk staff to the yogi practicing next to you, everyone wants to lift each other up.
Little Known Fact About Me
I have triplet nieces - I absolutely adore them!