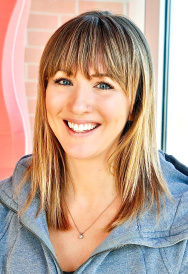 Kim Reles
Staff
Experience
I started practicing yoga during my freshman year of college in 2008, and more recently got into barre. Over the years, I've done various other workouts and exercise classes, but found that I kept coming back to yoga and barre. Yoga has helped me manage stress and anxiety by serving as a reminder to be present, mindful, and kind to myself.
Favorite Pose
Dancer
Favorite Quote
"Wherever you go, there you are."
Why I Love Dragonfly
I love the variety of classes, the heat, and above all, the uplifting vibe of Dragonfly. Everyone is so welcoming and supportive, which makes it the perfect place to try things without fear of judgement, whether that be a new class or a challenging pose.
Little Known Fact About Me
I used to teach ESL in Costa Rica, which is where I found my dog, Mufasa. I was out for a run one morning and came across two puppies in a cardboard box on the side of the road. A friend adopted one of the pups, and I took the other. Mufasa is considered a rescue, though I think he just as much rescued me. I have no idea what breed(s) he is, so I endearingly call him my "Dumpster Dog", among a million other nicknames.