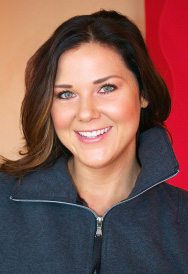 Kati Whitledge
Instructor
My Teaching Style
My teaching style is to lead by example. I will hold you accountable to proper form and body alignment, so we remove the risk of injury and guarantee long lasting results. I believe there are two intimate experiences you can share with others; breaking bread and breaking a sweat. I am here with you, in the moment, breathing hard, sweating it out, right along side of you! Together we will have an awesome time hitting it hard.
Experience
I started teaching group fitness classes in 2004. My favorite classes to teach are Pilates, Cardio Kickboxing, Bosu Xtreme, Bootcamp and Body Sculpt. Join me in a Power Up class and learn how to properly build abdominal stability that will power all of the strength exercises we incorporate. Power Up will keep your heart rate elevated through high intensity interval training! We will be shredding fat and teaching your metabolism to become a fat burning machine in and out of the classroom.
Favorite Exercise
Squats! I love getting low, squeezing the booty, and feeling the fire in my lower body!
Favorite Quote
"You don't have to be great to start, but you have to start to be great."
–Zig Ziglar
Why I Love Dragonfly
I love that Dragonfly offers more than yoga fitness options. Yin is the best compliment to a Power Up class. And BarreAmped develops muscles that you didn't know you had! If you've been, you know what I'm talking about. All bodies types and fitness levels are welcome and I love the acceptance of this environment.