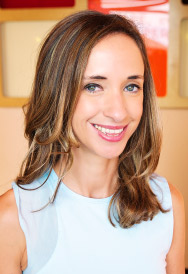 Kara Candito
Instructor
certifications
BarreAmped Level 1

My Teaching Style
I strive for high-energy classes that make you shake, laugh and push your form to the next level. Expect challenging sets, lots of arm and core work, and invigorating playlists. I love getting to know you and your practice.
Experience
I was never much of an athlete until I discovered ashtanga yoga in grad school. After moving to Madison, I studio hopped for a few years before finding a yoga home at Dragonfly. Eventually, I took a BarreAmped class on a whim and haven't looked back since! I love the precision and mental focus of BarreAmped, and the physical and mental strength it's helped me develop. I earned my certification in March 2018, and and am delighted to combine two of my passions; teaching and BarreAmped.
Favorite Pose
Parallel—it always makes me shake!
Favorite Quote
"Everything was rainbow, rainbow, rainbow!"
- Elizabeth Bishop
Why I Love Dragonfly
Dragonfly is simply the best! I adore this supportive and inclusive community. From the studios' warm colors, to the personable instructors, staff and fellow yogis, Dragonfly is truly my happy place. I love sweating it out in Power Up, recovering in Flow and Yin, and toning and strengthening in BarreAmped.
Little Known Fact About Me
I've published two books of poetry.
Kara Candito's Class Schedule