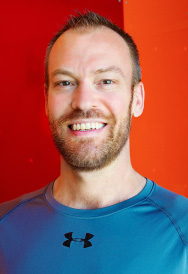 Jonathan K.
Instructor
certifications
CYT - 200 Hour

My Teaching Style
I have spent my entire life competing in both team and individual sports. With that in mind, I bring a challenging and athletic flow to my classes. The sequences will be fun and energetic. My goal is to create an inviting, comfortable environment where you can honor yourself through your practice. I intend for you to leave class a little lighter in your step and with a clear mind ready to take on the rest of your day.
Experience
I served in the U.S. Navy from 1999-2003. One of my collateral duties was the Engineering Department Physical Readiness Coordinator. This is where I first realized my enjoyment for helping others through fitness.
I received my Associate Arts degree from Madison college in 2009. Since then I have worked in the restaurant/bar industry as both a bartender and bar manager. This past year I felt the desire to return to helping people in the fitness world. I have been practicing yoga at Dragonfly since 2014 and thought about passing my love for yoga onto others. I completed Dragonfly's 2018 summer teacher training and became certified in July 2018. I joined the Dragonfly instructor community in August and couldn't be more excited. I look forward to seeing you all in my classes and practicing next to me!
Favorite Pose
Warrior 2 - I love the wide, solid base. It opens the hips and creates long, strong muscles. I feel fierce with my drishti gaze out over my fingertips.
Favorite Quote
"Good, better, best. Never let it rest. 'Til your good is better and your better is best."
– St. Jerome
Why I Love Dragonfly
When I finally decided to try yoga after several years of consideration I experienced a significant amount of anxiety. I wasn't sure I was right for yoga. The friendly staff and inviting atmosphere at Dragonfly instantly put my mind at ease. I soon realized that yoga is for everyone! I loved being part of this amazing community. Now that I'm part of the Dragonfly instructor team I'm extremely excited to begin this new chapter in my life!
Little Known Fact About Me
At the age of 31 I decided to use my final year of eligibility and play my last year of college basketball for MATC. Everyone thought I was a coach!
Jonathan Krogman's Class Schedule