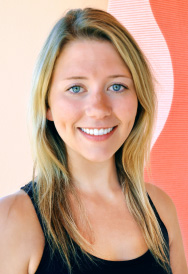 Jeni Z.
Staff
Experience
I first began practicing yoga consistently the summer after my freshman year of college in 2012. I grew up dancing, and really missed the movement, flexibility and inner strength I gained through dancing. I fell in love with the vinyasa style of yoga immediately after my first class. I love the way I feel after each practice, especially hot yoga. I always walk away feeling refreshed, refocused and reenergized.
Favorite Pose
Ragdoll Pose (Uttanasana)- I love the release this pose offers, especially in the area of my neck and shoulders.
Favorite Quote
"Who you are is defined by the next decision you make, not the last one."
-Rachel Hollis
Why I Love Dragonfly
When I moved to Madison in the summer of 2018, one of my top priorities was to find a positive community in which I could maintain my yoga practice. A friend recommended Dragonfly, I took a class, and was instantly hooked! It has quickly become a place I look forward to visiting, where I can escape the daily stresses of everyday life and truly focus on the present moment.
Little Known Fact About Me
I am terrified of any kind of bird, squirrel and bunny rabbit...but I am fascinated by all insects!