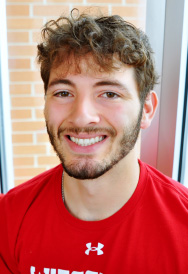 Jake W.
Instructor
certifications
CYT
My Teaching Style
I love teaching upbeat classes that leave clients feeling triumphant by the time our final pose is cued. My aim is to motivate all yogis to explore their limits and embrace the philosophy of failing forward. Yoga is a practice, and practice is not a place to be perfect, but to try new things and grow. With energetic music from a variety of eras and numerous modifications in poses, classes with me are designed to be welcoming for all who seek to enhance their mind-body wellness through yoga.
Experience
In July 2022, I turned to hot yoga to alleviate the pain of an SI joint injury, despite my initial hesitation as a weightlifter. To my delight, yoga not only increased my flexibility and eased my discomfort but also brought a sense of tranquility to my life. My first class was YogaUp which left me awestruck by the intensity of a hot yoga workout! As a recent UW-Madison graduate and aspiring medical student, I jumped at the chance to join Dragonfly's teacher training program. Given my passion for orthopedics and the remarkable benefits I reaped from yoga personally, I saw becoming a certified instructor as a valuable way to help others discover the same advantages. As of March 2023, I am thrilled to have completed my teacher certification and to be part of the Dragonfly family!
Favorite Pose
Crescent Warrior - This is undoubtedly my favorite yoga pose. It demands concentration, strength, and balance, which are essential traits for any yogi to cultivate. With a multitude of variations and transitions, Crescent Warrior is a great gateway and finale to many other poses. It is a regular feature in my classes, and I love exploring new facets of the asana with my students.
Favorite Quote
"Our doubts are traitors,
and make us lose the good we oft might win,
by fearing to attempt."
― William Shakespeare
Why I Love Dragonfly
I adore Dragonfly for its inclusiveness and warm community. When I first stepped onto the mat, the only posture I knew was downward dog and I often felt self-conscious in class, trying to mimic others' movements so I would be in the "right" pose. However, the teacher's constant support and encouragement made me feel like I belonged. Regardless of your experience or skill level, Dragonfly makes you feel like family, which is what I love most about our studio.
Little Known Fact About Me
I am the Verona Area High School Freshman Football Head Coach. Only being 22, I cannot believe how fast one becomes out of touch with "modern" lingo and music.
Jake W's Class Schedule