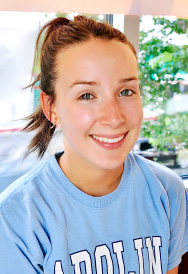 Emma Axelrod
Staff
Experience
I started practicing yoga at home when I began high school, and transitioned into the world of studio hot yoga in my sophomore year. As a high school athlete, I found yoga to be as relaxing as it was disciplined and intentional. I struggled to be present and control my breath at the beginning of my yoga journey, but eventually achieved both these goals.
Favorite Pose
Happy Baby - I can't help but smile when the instructor calls out this pose.
Why I Love Dragonfly
Dragonfly is such a positive environment and friendly community. It reminds me that yoga can be both energizing and relaxing at the same time!
Little Known Fact About Me
I geek out over wildlife watching: from birds to mountain lions to wildflowers, I love to spot and learn about nature.