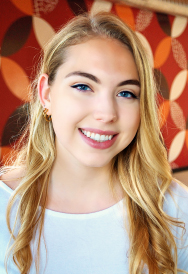 Emily Geiser
Staff
Experience
Fitness has always played an important part of my life and throughout grade school I did everything from dance to volleyball to softball to tennis. Once I got to college, however, fitness took a seat on the sidelines and slowly became less of a priority as my workload increased. After about a year of occasional trips to the gym, I realized that something was missing and that was when I was introduced to hot yoga at Dragonfly. I quickly became a fan and have been loving it ever since! Dragonfly has helped me maintain an active lifestyle and keeps my body and mind happy and healthy.
Favorite Pose
I find it hard sometimes to find a time when both strength and peace coincide with one another so Vriksasana, also known as Tree Pose, is a favorite pose of mine. It's the perfect pose to test strength and balance, but once I'm feeling steady I feel as powerful and gentle as a tree.
Favorite Quote
"Stop waiting for Friday, for summer, for someone to fall in love with you, for life. Happiness is achieved when you stop waiting for it and make the most of the moment you are in now."
Why I Love Dragonfly
The sense of community at Dragonfly is strong and extremely welcoming- as soon as I started going I couldn't help but feel like I found a new family. Dragonfly welcomes everyone and the wide array of background and experience in each class is refreshing and fun. The Dragonfly community continues to inspire me on my own wellness journey and I would strongly recommend it to anyone who is looking to kickstart or continue their own wellness journey in a positive and welcoming environment or to anyone looking for some good, rewarding fun!
Little Known Fact About Me
I competed in rhythmic gymnastics till about 15- at one point I was the only rhythmic gymnast representing Wisconsin to compete!