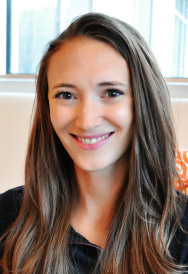 Elsie R.
Instructor
certifications
RYT-200

My Teaching Style
I teach an accessible, challenging, and energetic yoga flow. I encourage students to have fun with their practice, try something new, and be adventurous on their mats. My classes are intended to be warm and welcoming, with the added bonus of a stellar playlist!
Experience
I started my yoga practice fifteen years ago as a way to keep moving while recovering from an injury. What I thought would be a temporary fix ended up being a life-long practice. I became hooked on yoga and grew to love the many ways it can show up for you – as an energetic release, a stress reliever, or a way to find stillness. I took my practice to the next level in 2021, earning my RYT-200 certification and deepening my understanding of different facets of yoga – philosophy, meditation, and alignment. I love being a part of the Dragonfly family and look forward to seeing you on the mat!
Favorite Pose
Dancer Pose: I LOVE a pose that challenges balance and stability because of how crucial those skills are for other physical activities and for life! This pose takes focus and openness and is rewarding at every level.
Favorite Quote
"Keep showing up."
– Des Linden
Why I Love Dragonfly
You can bring your whole self to Dragonfly and the community will welcome you with open arms! Dragonfly classes let you explore your practice in new ways and offer opportunities to grow at any level.
Little Known Fact About Me
I'm a huge olympics fan/nerd. Come talk to me about your favorite olympic sport!
Elsie Raymer's Class Schedule