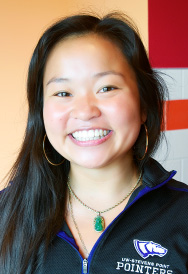 Ellen Arnold
Staff
Experience
I would say that my experience with yoga is at a beginners level. Although, I have a very good idea and understanding of the correct alignment of the body, and I feel that knowledge gives me an upper hand on yoga. I really only started taking yoga last semester when I was home for Winter Break with my mom!
Favorite Pose
Love me a good Downward Dog! I can really elongate my spine and get a great stretch in my hamstrings and calves.
Favorite Quote
"To be alive is to be vulnerable."
Why I Love Dragonfly
I love Dragonfly because it is such a friendly environment. Everyone is there to better themselves, take a class for themselves, and to give back to their body. It is so great to go into a space that is non-judgmental and just be able to focus on what you need that day, and Dragonfly is the exact place where that is possible.
Little Known Fact About Me
I love mangos and soul music!!!!