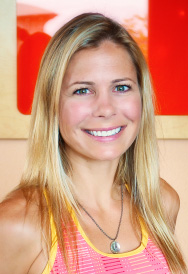 Elizabeth Di Salvo
Instructor
elizabeth.d@dragonflyhotyoga.com
certifications
CYT
200 hour RYT
BarreAmped
BarreAmped Boot Camp
Boot Camp Extreme Cardio
BarreAmped Fire

My Teaching Style
My teaching style is optimally created through, a strong sequencing of the asanas, temperature, music and a little bit of laughter thrown in for good measure. My goal for clients during class is to explore and find their personal level of strength, endurance, and flexibility in a safe and welcoming environment. I acknowledge and want clients to realize we are all on our own path of growth. I tend to focus on radiating outward from the core of the body; paying particular attention to the alignment of the trunk and extending outward. At the end of each practice my goal is to have clients leave feeling invigorated, challenged and at peace.
Experience
I received my Dragonfly Hot Yoga 200-teacher training in 2015 and BarreAmped Certification in 2016. I have been practicing a variety of yoga styles since 1999. I really fell in love with yoga and especially hot yoga when I moved back to Madison in 2002. For me, yoga is wonderful way to work in harmony with my active lifestyle; cycling, running, triathlons or just trying to keep up with my daughter!
Favorite Pose
Eagle, every time I do this pose I learn to embrace challenges.
Favorite Quote
"If I have given my all and still do not win, I haven't lost. Others might remember winning or losing; I remember the journey."
– Apolo Anton Ohno
Why I Love Dragonfly
The attention to detail and welcoming experience one has as soon as you step in the studio from check-in to the wonderful teachers. It is a exceptional place to find balance.
Little Known Fact About Me
Completed Ironman Wisconsin in 2013.