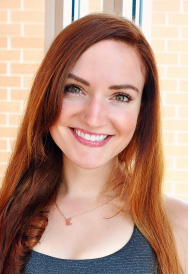 Elise Comello
Instructor
certifications
BarreAmped Foundations

My Teaching Style
As a BarreAmped instructor I want you to get the best workout possible while having FUN in my class. I bring a lot of passion for Barre into my classes, and I believe strongly in the practice. I took my first Barre class by accident in March of 2018 not knowing anything about it, and was immediately hooked! In a short period of time, Barre shaped my body more than any other exercise I've done, and I am so excited to show you what barre can do for you. Expect a lot of challenge, some fun tunes, inclusive and welcoming energy, and passion for the practice. See you at the Barre!
Experience
I got trained in Barre Foundations in November 2018
Favorite Pose
Fold over on the floor! Feeeel the burn!
Favorite Quote
"Do or do not. There is no try."
- Yoda
Little Known Fact About Me
I have 2 dogs and 2 bunnies at home. I live in a petting zoo of my own creation.
Elise Comello's Class Schedule