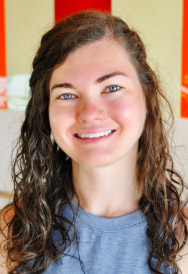 Chanelle O.
Instructor
certifications
CYT
RYT-200

My Teaching Style
I strive to provide an energizing class that challenges my clients to explore (and possibly reassess) their edge, building strength and confidence that they can take with them throughout their day. My style is intentional and uplifting, encouraging clients to make the class their own by taking what they need and leaving what they do not.
My flows are well rounded and strength driven. I typically develop sequences that build off of each other, giving clients the opportunity to explore poses more than one time. I also tend to hold poses longer to both challenge and empower clients to experience and play with their edge.
I grow from feedback and encourage my clients to let me know how I can better serve them to get the most out of their practice. That could be related to things you liked/disliked, a pose you would like to see in our practice, or the music we flow to. I am always open!
Experience
I have been practicing yoga on and off for over 10 years. I recommitted to almost daily practice in 2021 at Dragonfly, where I fell in love with hot yoga! I completed my RYT-200 training in July 2022 through Dragonfly's YTT program. I continue to learn through my own practice, fellow Dfly instructors, and a variety of other resources!
Favorite Pose
Arm balances - there are so many variations that you can always sneak one into a flow! :)
Favorite Quote
"You cannot do all the good that the world needs, but the world needs all the good that you can do."
– Shelbi Orme
Why I Love Dragonfly
Dragonfly is the first studio that helped me practice everyday thanks to the many challenges they offer to push and inspire their clients, while making it a safe environment to practice with educative and supportive instructors and staff.
Little Known Fact About Me
I live a low-waste lifestyle and I am vegan!
Chanelle Oeding's Class Schedule