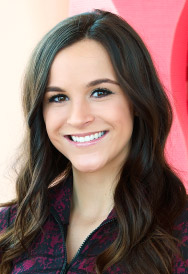 Carlie Zielinski
Instructor
certifications
Yoga Up

My Teaching Style
Come to my classes with lots of energy and a strong mindset to challenge and push yourself – you are stronger than you think! I love seeing everyone in class become stronger with every pose, every second of every minute and I will be there to encourage you every step of the way. I LOVE cardio, core work, and finding challenging poses to hold. If you come to my classes, be prepared to have fun and give it your all!
Experience
Many Dragonfly yogis recognize me as a familiar face… and that's because I have been working the desk in Fitchburg and Middleton since December of 2018. I had been a member of Dragonfly for years, and wanted to give back to our clients because I love this place so very much and I wanted to help give all of our clients that same feeling and experience. I became certified in Yoga Up in April of 2019 after taking tons and tons of the fitness classes we offer. I knew I wanted to become an instructor someday, and that dream is finally becoming a reality! I am beyond grateful for this opportunity and cannot wait to help our Dragonfly family members become the best versions of themselves through instructing fitness classes and building the community.
Favorite Pose
Burpees!!! I love that this move works every muscle in your body and gets your heart rate up… they are challenging, but in a good way! ;)
Favorite Quote
"In a world where you can be anything, be kind." I love this quote, I believe kindness is key in life.
Why I Love Dragonfly
I love Dragonfly for the overall experience it gives me. This is my outlet for stress, and I truly look forward to coming to here not only because I feel incredible after sweating out all my toxins from doing burpees in a 95-degree room ;), but because I love the people. The people and the atmosphere are really what keeps me coming back. Every time I leave the studio I leave feeling refreshed – mind, body and soul. I have built so many new friendships from taking classes here and everyone in the Dragonfly community is so kind and welcoming. Coming to Dragonfly is truly the best part of my day, every day!
Little Known Fact About Me
I was the co-host of an online talk-show called 'Magazine Girls'!
Carlie Zielinski's Class Schedule