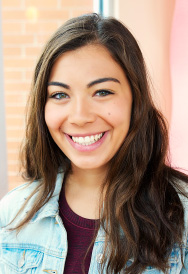 Annee Welbel
Instructor
certifications
CYT

My Teaching Style
I lead an active style vinyasa flow class with a different theme threading through each class. I love to focus on one chakra or an intention to guide myself and the practitioners through class, building a strong connection of mind and spirit - whether this be explicit or simply a guiding force for my choices in class. I aspire to hold a safe space for practitioners to work toward their edge, but find a place that is safe and right for their body on that day. Through my continuous self study, diving deeper into yogic philosophy, I intend to begin weaving this information into classes allowing students to grow and find a greater self awareness class by class, not forcing beliefs on any student, but inviting a curiosity about the world and oneself. My hope for my students is that they can find themselves in moving meditation, linking breath with movement, and feeling comfortable whether it's their first or 400th class.
Experience
As a Freshman at UW-Madison, one of my friends brought me to a Power Up class at Dragonfly. I ended up buying the intro month offer and started to try out all the classes Dragonfly had to offer. I took a Power Flow class, and I fell in love almost immediately. I had taken a few yoga classes before but they were all restorative types and not for me at the time. I started using yoga as my stress relief from school and everything else, and by Sophomore year, I started making it to my mat every single day - whether it be in the studio or my room. My mat is my happy place.
Favorite Pose
Warrior 2 - Not only do I love the way this feels in my body - open hips, strong and wide stance - but this pose reminds me how strong I am mentally and physically. I feel so fierce standing in this pose, especially with a class full of warriors surrounding me.
Favorite Quote
"Compassion is the radicalism of our time."
– The Dalai Lama
Why I Love Dragonfly
There are so many reasons, I can't possibly list them all!! I love that from the first class I took, I never felt judged for not knowing the proper alignment, or for struggling with knowing which pose was which. Dragonfly had me hooked from the start, and truly made me excited to sweat it out.
Little Known Fact About Me
My brother and I used to be competitive tap dancers. We performed duets until my Freshman year of high school.
Annee Welbel's Class Schedule