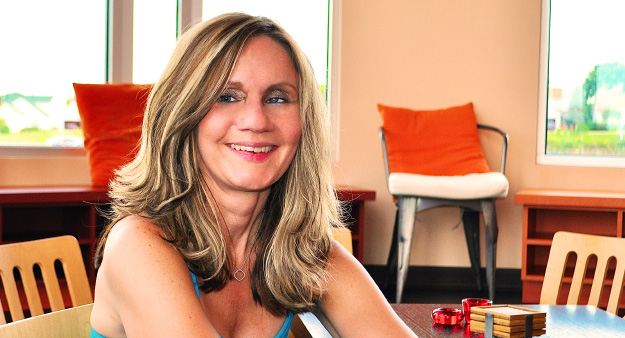 I was always curious about yoga and finally decided to give it a try. The Fitchburg studio is only a few minutes away from my home so I bought a Groupon for a month membership. After the first two classes, I was hooked. I loved it!
I love the whole Dragonfly community as everyone is so friendly. The yoga instructors and staff know your name. I have belonged to many health clubs/fitness centers where the staff did not know who you were.
The instructors are always willing to help you perfect your pose or technique. I also like that Dragonfly is a place for any level of yogi.

Since starting yoga at Dragonfly on Labor Day of 2012, I have lost 15 pounds. I also feel better physically and emotionally. I do not get stressed out as much anymore and I don't let everyday problems bother me as much anymore. I attend classes 4-6 times per week at both locations. My favorite class is Fire and a close second is Fusion. Other favorites are Yin and BarreAmped.
I would like to thank my regular yoga instructors: Kaila, Rachel, Laurie, and Kim. You ladies are great!
Instructor Kaila Pooler: "I feel so lucky to know this woman! Krystal exemplifies everything a well-rounded yogi could be and should be in the often confusing world of modern yoga. She pushes her limits in Fire and Fusion classes, allows her grace to soar in Flow, refines her form expertly in BarreAmped and knows when it's time to balance herself with Yin. Krystal is one of the most consistent yogis I know at Dragonfly and I greatly look forward to seeing her in class each and every week. Her sweet kindness and upbeat energy are contagious; she often leaves fellow yogis with a smile and energizes me for any class I might be headed in to teach. Krystal regularly balances the tricky act of trying new things while honoring what her body seems to need in a given class. I love watching her inspire fellow yogis to do the same in all stages of their yoga and fitness journeys. Krystal is a true gem and I look forward to many more years of practice next to her."