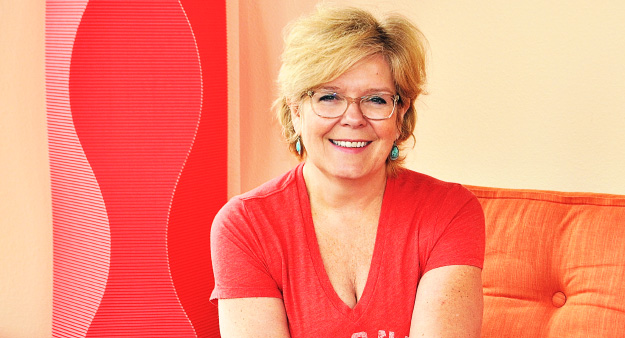 My Dragonfly experience began when some young friends from work invited me to join them for a $5 Flow class on a Saturday afternoon last Fall. I was super nervous because I've never been much of an athlete and was intimidated by my ideas of what a "Yoga Studio" would be like. My friends assured me they would not let me embarrass myself and that it would be fun. My only experience with yoga was a video class, usually held in the privacy of my own basement (shout out to Kathryn Buddig and Aim True). And although I knew I was learning yoga, I was still very curious if I was on the right track. I thought some feedback would be helpful…

Mike Kaiser was my very first, real person Yoga Instructor and he could not have been more welcoming and positive. In his class he gave me permission to rest when needed and respect what my body was telling me. He assured me that Child's Pose is always a good option! He was encouraging enough that I returned to his class and gradually gained enough confidence to try other classes and teachers. In December, I took advantage of a discounted trial month and began my YOGA MANIA.
My first experience with Yin was with Rachel Seurer and I quickly became her biggest fan, attending a variety of classes I never would have tried–simply because I knew she would be accepting of my efforts. I call it "The Cult of Rachel" and her positive attitude encouraged me in ways I never would have imagined. We even met for an early morning MadPower. Rachel encouraged me to try all of the classes Dragonfly offers and I found the ones that seem to be the best fit for me, although I still bounce around and enjoy the variety of the schedule. I can't get enough of the classic Flow and love the variety of teachers: Suki Warda, Kaila Pooler, Katy Blum. And then there's that special Monday night Slow Flow where Rachel is assisted by Cheryl Lemenager… My absolute favorite combination is BarreAmped (Kim Guenther with her awesome playlist!) followed by a Yin (Rachel of course). I've convinced quite a few fellow Yogis to try that combination. That's how I've connected with some of the great fellow DFlyers (Hi DFly BFF Linghong!) I also want to compliment all the staff who contributes greatly to the welcoming atmosphere at all the Dragonfly locations. Walking into Dragonfly truly is like "Cheers" where "everybody knows your name."
When I joined as a monthly member in March I was determined to get my full value and began a 30-day challenge. This led to a 60-day challenge! I find the more I practice the more I want to practice. It's never a matter of making myself go to class–it's always a challenge to fit enough classes into my schedule! I saw a tremendous improvement in my practice and my muscle-tone during the 60-day challenge. Since I've never been athletic (AT ALL) this was quite thrilling for me. I have to thank my wonderful husband who never complains about how much time I spend at Dragonfly. Also my physician was surprised with the improvement in my now NON-high blood pressure and NON-diabetes (medication free!) I guess my goal for beginning yoga was pretty simple: I don't want to get old in body, mind, or spirit. Dragonfly is a community where all are welcome and encouraged, where you don't have to have a certain body type or cool outfit to be accepted. I know that Dragonfly came at the perfect time for me. When our last child left for college in the Fall I could have found myself with little to do–Dragonfly took care of that and gave me a vibrant new outlook on life as well as a healthier body and state of mind. Thank you so much for creating the beautiful space where we breathe, sweat, live. Thank you Dragonfly!
Instructor Rachel Seurer: Melanie is such a gift to our Dragonfly community. In flow, yin, and even Madpower (!) classes she has taken with me as her teacher and as her friend. I have been honored to be able to watch her practice soar to new heights. Shout out to you Melanie and your first Crow! She shines after class as well by striking up friendly conversations with teachers and staff alike at the desk, and befriending new members. I love Melanie's kindness, exuberance, openness to new classes and poses, and especially the spicy southern gal inside that always shines out of her and makes everyone smile.