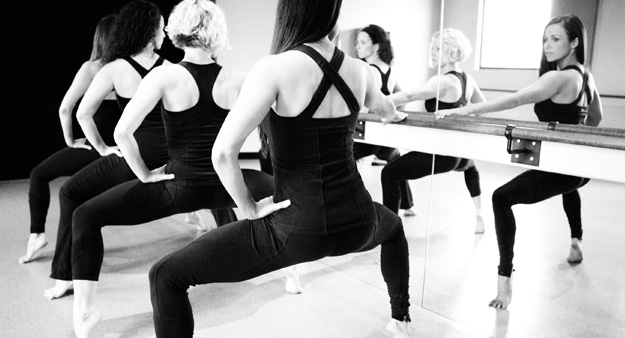 You've heard the buzz…Dragonfly Hot Yoga's Middleton location will be the only Barre Amped certified studio in Madison. What's so special about Barre Amped? We chatted with instructors Carrie Johnson, Amber Thompson, and Sarah Mathis on what makes them amped about teaching BarreAmped.
Dragonfly Hot Yoga: What drew you to becoming a teacher of BarreAmped?
Amber Thompson: Many of my friends live along the coasts and they are all addicted to barre classes. I wanted to see for myself and loved my first class and knew it would be a hit at Dragonfly. I love teaching fitness classes and I know people will love the results they see.
Carrie Johnson: I was drawn to becoming a BarreAmped teacher for the method of it. It is driven from Pilates, classical and modern dance, yoga and orthopedic stretches. Having a background in all I'm able to combine all in one and this class does all that.
Sarah Mathis: I love teaching all forms of fitness and BarreAmped caught my eye because it brings a lot of these forms together. It incorporates elements of both yoga and pilates, which I love. I am very alignment-focused when I teach yoga and pilates because it helps us connect with our own body and create mindful movement. Precision, form and intention are key aspects of the BarreAmped classes, so I'm very excited to teach this!!

DHY: Describe in a few words how Dragonfly's BarreAmped classes will be structured.
SM: All BarreAmped classes will contain a similar structure, yet there will be enough variance between classes that you won't be bored. We literally work and tone the entire body. We'll start with a light warm-up, followed by arm work, high work, seat work, core work, and some stretching. We use very light weights and we focus on toning, rather than muscle building. Most of the work is made up of small, controlled movements where the muscles stay contracted the whole time. We work to quickly exhaust the muscle groups. And even if you're in tip-top shape, this class will kick your butt. My first BarreAmped class was very humbling.
DHY: Why should someone take a BarreAmped class at Dragonfly?
CJ: Do you want to change your Body? Well BarreAmped classes will do that for sure and it will enhance your strength and balance in Yoga. Additional to feeling Great about yourself inside and out.
AT: Total.Body.Toning
SM: BarreAmped will "shake" up your workouts…and I mean literally "shake"! It is similar to a yoga class because the movements are low-impact and safe for ALL body types, yet it works the body in a completely different way. Once you see how your body responds during the first class, I believe you'll be hooked!
DHY: How should students prepare for their first BarreAmped class?

CJ: Bring Water, dress still as you would for a Yoga class or Pilates class. You can wear toe socks or go barefoot. Be Mindful, stay present in the class, and just be prepared to have Fun, Laugh, and Shake!!!
DHY: Anything else you'd like to add?
CJ: I have to say this is not like any other fitness or Mind Body class. I sure cannot wait to share my playlist of songs for all that is included in this Method. Some goodies (think "What a feeling" from Flashdance) will be playing.
SM: DragonFly wants to provide a diverse offering of classes so that students have many choices. We provide a safe and nurturing, yet challenging environment for all classes. BarreAmped will fit in nicely!!