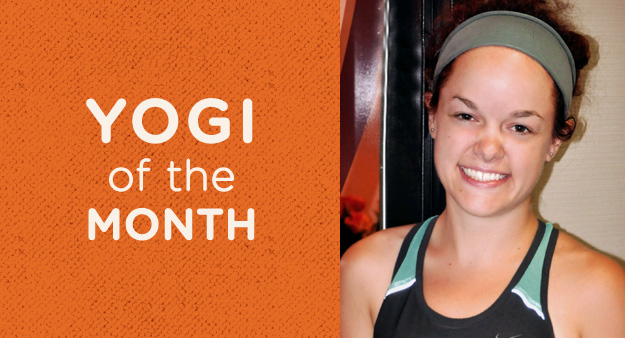 When we sat down with Kelly Patterson to talk about her being nominated by Tola Neils as Yogi of the Month for July, she was on day 49 of her 60 day challenge.
"It's kind of an addiction. I finished a 30 day challenge without even thinking about it. So I thought, might as well go for 60."
Kelly takes classes every morning, sometimes two on Tuesdays and Thursdays. "Sometimes I come back at night."
"I love Dragonfly Fusion. That one's probably my favorite, and I don't get to go to it that often because I go in the morning. I have to make time for it because it's a really challenging class and it's kind of different than most of the Flows. You get that Fire aspect to it. I love the heat."

Kelly Patterson saw the signs for Dragonfly Hot Yoga on her way to work at Epic. She had tried hot yoga at another studio in town and knew that she liked the hot room even if that particular studio wasn't quite her style. She came in to Dragonfly, signed up for the two week unlimited and then, she says, she was hooked.
"It definitely keeps me sane. And going in the morning, it gives me that kind of energy to get on the phone, work with stressed-out customers, and not get stressed out myself. It's really nice to have that balance." She has pulled in co-workers as well, converting some who said they were afraid of the heat or "didn't like yoga".
Kelly will be moving to Boston in about three weeks.
"I'm really worried…I want another Dragonfly in Boston. (Dragonfly) is like my second home. I love coming in and recognizing everybody and everybody recognizing me, all the instructors. It's just so relaxed. It's not like everyone is here to have a workout or do everything right, everybody is here to enjoy themselves."
Kelly hopes to get in as many classes as possible before she leaves. She has noticed physical changes since she began her 60 day challenge. "I'm so much stronger and I sleep well. My stress levels are better. I just feel better. Nothing specific, just healthy."