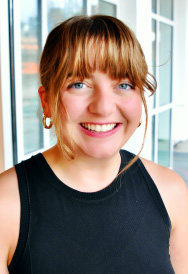 Lillie Grace F.
Staff
Experience
In high school, I attended "teen yoga" every Sunday with my friends, with the goal that we could hold pigeon longer than last week. I am so thankful to have been introduced to Dragonfly by a former Yogi of the Month, Steph Benton (who is currently getting certified in Bali) who encouraged me to attend! My mom then bought me an intro month for Christmas and the rest is history. I have grown and learned that it does not matter how long you can hold a pigeon, but rather that you show up for yourself.
Favorite Pose
Yogi Squat! The hip release this pose created for me… amazing.
Favorite Quote
"Have a happy heart"
– my mom's (who bought me my first pass) life mantra!
Why I Love Dragonfly
Dragonfly was my escape from the stressful transition to a "normal" post COVID world and the busy life of a Badger. In the past, I exercised with a physical goal in mind, but dragonfly taught me that mental wellness is just as important!
Little Known Fact About Me
I took a solo trip to Yellowstone National Park this summer.