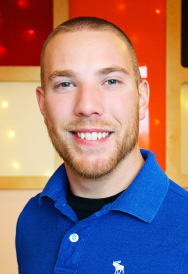 Jeff Miller
Staff
Experience
During late 2013, I was searching for a way to return my body to normal from serving in the military, when hot yoga was suggested to me. My first yoga class was a candle light slow flow at Dragonfly, and I found it to be a great balance between relaxation and exertion. Since then, I have taken many different yoga and fitness classes, that have all helped gained and maintain wellness, mentally and physically.
Favorite Pose
Sphinx or Cobra- I love stretching my back
Favorite Quote
"A ship in the harbor is safe, but that is not what ships are built for."
- John Shedd
Why I Love Dragonfly
Dragonfly is a great place to mend the mind and soul. Even when I am working, I don't feel like I am "at work". Mainly because I am surrounded by genuine, good hearted people. I like changing things up, so it's great that Dragonfly offers so many different classes as well as workshops, such as Bend & Brews and Yogathons for example.
Little Known Fact About Me
I was a "Spur Holder" in the Army