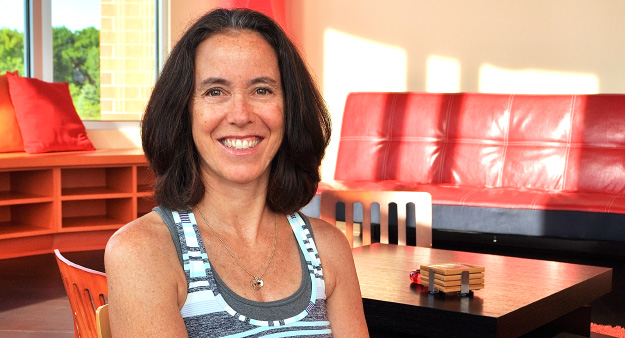 I got started at Dragonfly thanks to my yogi pal Lori Platz. She kept raving about the studio and hot yoga so I decided to give it a try. Before Dragonfly I had tried many yoga studios around town. Each time a yoga Groupon was offered I bought it. I already had a gym membership, but I knew I was lacking in the mind/body connection. I found that each studio was unique, some a better experience than others, but no one studio captured me enough to purchase a membership. That is of course, until I entered Dragonfly. After trying one class at Dragonfly I knew it was the spot for me. I bought a one month unlimited pass and never looked back.

Once I tried Dragonfly, I was hooked. Not only is the physical space warm and inviting, but the staff is amazing. It was the personal touches that really drew me in. From being greeted by name by the amazing front desk crew, to receiving personal postcards from the staff, I was made to feel a part of the Dragonfly family from the start. The teaching staff is fantastic and as varied as the class offerings, which I love. From Tiffany's high energy Yoga Up class to Michelle's Yin class, I can always find a class that meets my needs.
Since joining Dragonfly I have experienced many positive changes to both my mind and body. I have improved both in strength and flexibility. But perhaps the most important benefit from my yoga practice has been in my mental health. While I love my job teaching 4th graders, it can be both physically and emotionally exhausting. I often attend classes after work and it has done wonders for my ability to let go of the stresses of the day. I often come into class tired, with little energy left in the tank, but after an hour at Dragonfly, my mind is clear and calm and my body feels renewed. Dragonfly is the perfect transition from my work day to the rest of my evening.
I attend classes 4-6 times a week. I love any classes that Tiffany teaches! Her classes are a wonderful mix of challenge and play. Tiffany encourages everyone to try new poses and to be "playful" in their yoga practice. Through Tiffany's wonderful teaching style I have pushed myself to try new poses and taken myself to new edges. By nature I am not a risk taker, so this has been a surprising benefit of her classes. I also regularly attend Carrie and Michelle's BarreAmped classes. I have had multiple stress fractures over the years so I am appreciative of the strength training that comes with those classes. I have recently started attending Michelle's Aroma Yin class. It is challenging for me to hold the poses and to embrace the stillness, but I know it is of great benefit to me. Of course my favorite parts of the Yin class are the mini massages you receive!
Exercise and fitness has always been a big priority in my life. Dragonfly has added a wonderful new dimension to my fitness level and well-being. I am so grateful to the Dragonfly staff for making it all possible.

Instructor Tiffany Geier: Julie's strong, yet graceful presence and energy in each class she takes, is a gift to us all. Her practice has grown steadily with her patience and perseverance. I feel honored and grateful to guide and lead Julie, yet so thankful for all she has taught me. I have been privileged to work with Julie in the Madison School District, and have seen the results of her yoga practice in the students she works with. Her patience, kindness and dedication to her work, always shines through loud and clear. Congratulations Julie!