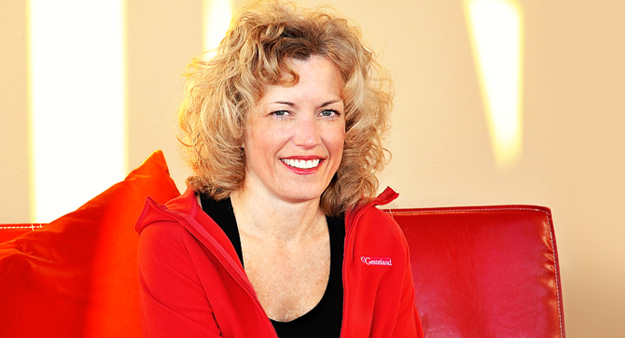 Karen first heard about Dragonfly while she was working for Supreme Structures, a General Contractor, who built both the Fitchburg and Middleton Studios.
She had never practiced Yoga of any kind. Her previous work-outs included fitness videos along with 5K and 10K runs.
"After the Fitchburg studio opened, I decided to go out of my comfort zone and take a hot yoga class. My first yoga class was Fire and I was hooked." Karen is a working mother of two teenage sons, which keeps her busy. Dragonfly allows her to slow down her daily life routine. "I love the heat and the sweat. Most importantly, when I have a difficult time coming to class, I always feel better about myself and have a better outlook when I leave the studio! Dragonfly has become a special part of how I keep balance in my life."
Karen has noticed her body becoming slimmer and stronger. "I have noticed some of my prior running injuries are improving. My core strength and flexibility have improved greatly. The classes give me a chance to unwind and relax."
Karen attends classes 3-4 times a week, loving both the physical and mental challenges in Fire, Fusion, Flow, Fit, and Power.
"Power with Amy is my favorite class with its High Intensity Training (HIT). Dragonfly has so many talented teachers and I have learned so much from them. Hot yoga is a great compliment to running. When I completed my 60 day challenge, I was also training for my first half marathon. Everyone at Dragonfly was so supportive and kept me motivated throughout my training. I have now transformed my traditional cardio workouts into a more yoga based routine."
Everyone at Dragonfly is inspired by Karen's dedication to herself and to her practice! Thank you for making Dragonfly the special place it is.