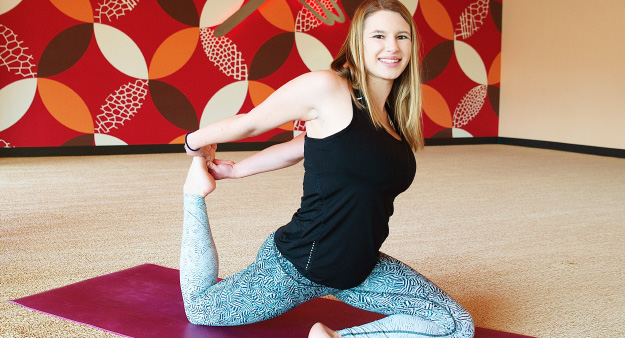 Almost two years ago, I started becoming interested in yoga more seriously and decided I wanted to join a studio. I tried out several of the yoga studios in Madison, but once I found Dfly, I was hooked. The community of Dfly is so welcoming, and I immediately felt at home in the studio. I've been a member ever since.
I found yoga after trying some classes offered through the UW-Madison gyms when I was a freshman. I instantly loved yoga, but I found many downsides to practicing yoga in that setting. I was only going about once every two weeks, it wasn't hot in the room, and the classes didn't explore as many different poses and sequences. Becoming a member of Dfly allowed me to start practicing regularly with teachers who know and teach yoga really well.

I love being in a studio with so many other people who love yoga. Every time we collectively breathe as a class, I know that I'm surrounded by so many wonderful people who are as passionate about yoga as I am. I couldn't ask for a better environment to practice in!
Physically, I am much stronger and more flexible. I have strengthened and healed previous injuries way beyond anything I ever accomplished in physical therapy. Mentally, I have also found major improvements in my well-being. Each class gives me an opportunity to step away from the outside world, where I can put away stress for at least an hour. It has taught me how fickle some of my worries can be, when I can completely forget them and focus on something so much better for me. Practicing with intentions has taught me a lot about my values. I generally have just been much more joyful since practicing yoga seriously.
I typically try to get to class 4 to 5 times a week. I love to Flow, so most of my favorite classes are some type of Flow. This semester, my favorite classes are Natalie's Flow on Mondays, Anna's Core Flow on Tuesdays and Megan's Flows on Thursdays and Sundays. Each one of these classes is so fun that you don't even notice how much you are being challenged. We get to do really creative sequences and new poses every time I come to their classes. I can't thank these ladies enough for how much they have taught me about yoga.
I'm now a senior at UW-Madison. After nearly two years at Dfly, I've found that there couldn't have been a better way for me to balance the stresses of college. I can go when my schedule allows, the environment is never competitive, and the teachers really teach you how to leave any external worries outside of the studio. College can really put people through the ringer, so it's been really important for me to set aside time for myself doing something that's so good for me. I can't speak more highly of the benefits of practicing yoga!
Instructor Bekah Gant: "Rachel is one of those yogis who makes everyone around her feel special and valued. Her kind, gentle, and genuine interest in her fellow yogis makes Dragonfly the welcoming space it is. Rachel's practice is also just as genuine and curious; she soaks in information and ideas and then utilizes them for her body and mind in that moment. Word on the street is Rachel will be pursuing teacher training, and I'm excited to see how she embodies the role of teacher as well as lifelong student!"