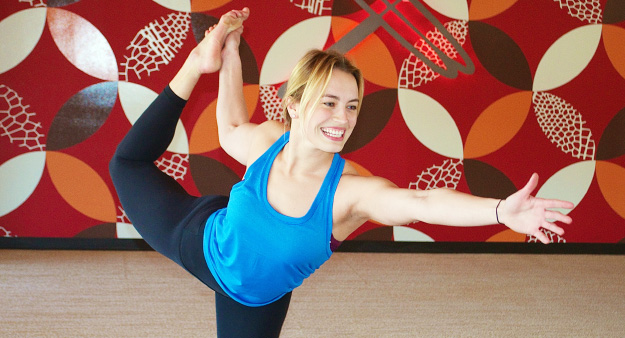 I was initially drawn to yoga my sophomore year of college. I was going through some pretty severe mental illness as a result of overcommitting and was using yoga as a way to get a workout in with some extra relaxation benefits.
At that point in my life, I had lost sight of my own dreams, goals, and ultimately, abandoned myself and all the things that brought me joy. With continued practiced, I initially fell in love with the physical challenge Yoga posed and got caught up in becoming physically stronger, pushing my body to the limit each class.

Coincidentally enough, I slowly began to realize that my practice, at that moment, paralleled my life. I had forgotten to listen. I had forgotten to breathe. I was pushing too hard for the future, but not enjoying the present. I had forgotten to be grateful for and accepting of the authentic "me." Since then, yoga has left me with a completely different perspective and has completely transformed my life.
Along my yoga journey, I was drawn to Dragonfly in January of 2016 particularly because it offered BarreAmped, Yoga and HIIT classes (Yoga Up and Power Up). I had fallen in love with Barre a few months previously while on internship in Southern Maine and really wanted to find a studio that offered both Yoga and Barre. Needless to say, after my first couple classes at Dragonfly, I was hooked.
Every minute I spend at Dragonfly is absolutely wonderful. Walking into the studio, I am always greeted with big smiles and a personalized hello making me feel like I really belong to the community established at Dragonfly. The instructors and staff radiate positive energy and are incredibly invested in their client's journey inside and out of the studio. I recently wrapped up a 60 day challenge, and making that commitment to my practice was incredibly rewarding despite being outrageously difficult at times. Throughout the challenge, the instructors were so supportive, and I definitely could not have done it without their constant encouragement. I have always had the intention of making it to class every day, but depending on the week, that may or may not happen. (Mad props go out to all the yogis out there who spend time on their mat on a daily basis!)
The wide variety of classes, my favorites being BarreAmped Boot Camp, Core Flow and Power Flow/Flow, never cease to challenge me mentally and physically and the instructors are always so unique, playful, and fun with their classes. All in all, the Dragonfly experience is welcoming, relaxed, community-oriented, fun, and energizing. I am so grateful for the relationships I have built throughout the Dragonfly community and for the energy and light it brings to my life!
Instructor Natalie Koberstein said, "Laura radiates light. She enters the studio and gives us her 100 watt smile, and you can see that she is so happy to be here. Her practice has evolved into a flow that truly honors what she needs that day. She listens to her body, she honors that sometimes it doesn't want to be pushed, and in the moments when she has the extra strength to find new depth in her poses, she goes there! It is truly a joy to watch her grow both in the studio and out."