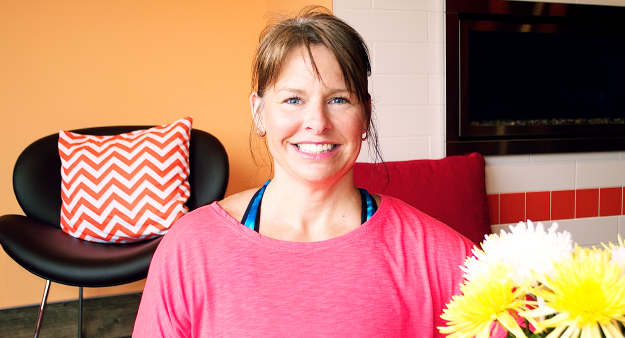 I began at Dragonfly in Sun Prairie in October 2015. My work/life balance was non-existent. The prior six months I had allowed work to consume me and I did not like the person I was. My body was constantly tight and uncomfortable and I had no energy or zest for life – my spirit had dimmed. I promised myself I would join Dfly when it opened in May 2015, yet; I convinced myself that I was just "too busy" to join and the months kept passing until I walked through the door in October.
I had attended approximately ten yoga classes off and on in the prior three years before I walked through Dfly's doors. I had zero knowledge of correct form, yoga poses or different class options.

I enjoy the peace that flows through every cell of my body after I finish a class. I feel alive and happy after each class… and grateful. I am grateful for the amazing women who I have crossed paths with at Dfly. The instructors are kind, supportive and have an endless supply of encouragement. Since starting at Dfly, I have met some very kind, encouraging women who also enjoy attending classes and growing their practice each day.
I do my best to attend one class each day; not because I think I have to, but because my body, mind and spirit crave the movement, freedom and joy. My favorite class continues to be Yin and Meditation with Bekah.
I am grateful for the opportunity to have such an amazing yoga studio, teachers and members available to me. I recommend visiting all the Dfly studios, as each one has a different feel and energy. I have learned so much by attending various workshops offered at the studio and recommend considering an upcoming workshop opportunity.
I have experienced huge changes in my total well-being since taking classes. I laugh easier, my energy flows and I feel alive. My body is happy and loves to move. My mind is calmer and can find peace quickly. My spirit shines!
Instructor, Bri Haley on Tami : "Tami is a delight to have in class. She always shows up with a smile on her face and is ready to sweat. The energy, strength and determination she brings to every YogaUp class is so inspiring! Keep on being YOU, Tami!"