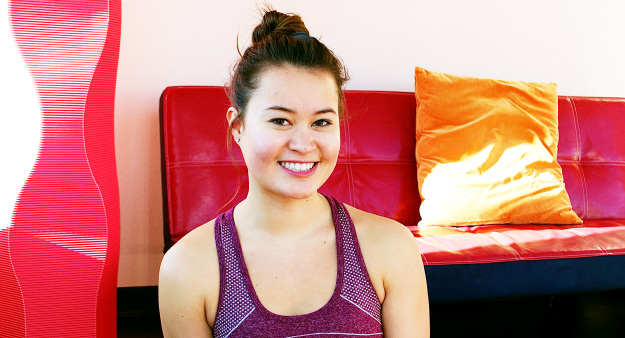 I had never done any type of yoga before I came to Dragonfly. I used to be a big swimmer and also did TRX classes. A friend of mine recommended going to my first free class and I loved it right away. I signed up for my Introductory month right after that class in September 2015.
The best part about coming to Dfly is that all of the classes are such great stress relievers and are all so much fun. Everyone is so welcoming and I love how every instructor makes an effort to get to know you. It's definitely my favorite place to go to get a break from school.

Since starting classes at Dragonfly I've felt so much healthier, happier, and stronger. My friends and family have all noticed how much more muscular I've gotten too! I typically go to about 5 classes a week, depending on how busy I am with school. You can always find me at Yoga Up with Shawn or Power Up with Erica. They're both awesome teachers and always have killer workouts and playlists.
I love it here at Dragonfly! I have learned so much about yoga and have seen my practice grow since I started. I have also been able to share the experience with many friends and 3 have joined the Dragonfly family as well!
Natalie Koberstein, Instructor and Studio Manager: "Madeline comes into Dragonfly with a smile on her face and a determination to find her own edge in each class she attends. She is dedicated to her practice and displays such a grounded, genuine personality when she is at the studio! She has brought friends to share the Dragonfly experience with and they always seem to have so much fun together!"