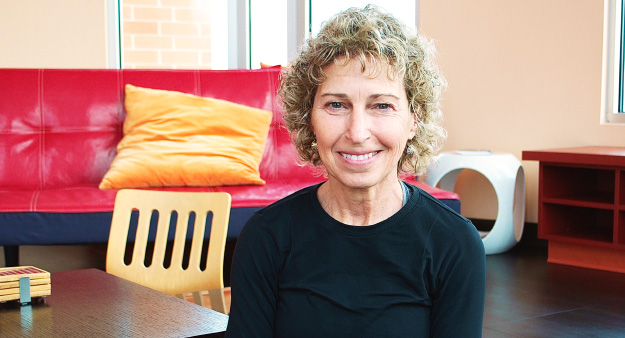 I have been doing Pilates for several years and one of my fellow Pilates classmates recommended Dragonfly BarreAmped classes as a good compliment to Pilates. I tried a BarreAmped class and was hooked – it was a challenging class and I could tell that it would help me to get stronger if I stuck with it.
I don't have any yoga experience – I take the BarreAmped and BarreAmped Boot Camp classes.
I like the calm, peaceful atmosphere and the friendly and professional instructors at Dragonfly. I also like the challenge of BarreAmped classes – you can push yourself to do more as you get stronger and that feels good.

I can tell that I'm getting stronger in general and the classes are helping me with my running and other activities. I really look forward to class at the end of the day, as I sit a lot for my job and it feels wonderful to work hard at class after a day of sitting. I have to focus on my physical movements and that helps me leave the stresses of the day behind.
I attend 2-3 classes a week and my favorite is the BarreAmped Boot Camp class. I like the movement and the aerobic intervals that get your heart rate up and make you sweat.
I go to both the Fitchburg and Middleton studios and really like the atmosphere in both. The spaces are clean, welcoming, peaceful, and the staff and instructors are very helpful and knowledgeable.
Instructor LeAnn Haroldson: "Susan is always the first student in class and once she is there she brings her A game! She consistently attends classes despite having a busy travel schedule, and when Susan walks through the door she has a smile and a can-do attitude for every class. It's been a pleasure to get to know Susan and see her grow in her practice!"