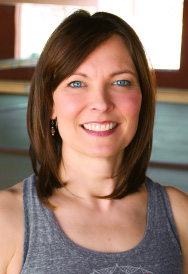 LeAnn Haroldson
Instructor
certifications
BarreAmped
Advanced BarreAmped
BarreAmped Bootcamp
BarreAmped Extreme Cardio Bootcamp
BarreAmped Fire

My Teaching Style
Expect a fun, playful class! Music motivates me so playlists are tailored to the class. I love to see you enjoying class and developing your practice so suggestions are always welcome.
Experience
Several years ago, while trying to find balance for triathlon training, I wound up at my first yoga class. Later, a cervical spine injury left me in need of surgery and physical therapy. This helped me realize the importance of strong physical and emotional balance. I was introduced to BarreAmped and discovered the exercises that were prescribed for me in physical therapy were the same exercises I was doing at Dragonfly - but a lot more fun! With my doctor's blessing I became a regular at BarreAmped and yoga classes. I have never felt stronger than I do today.
Favorite Pose
I am all about the Pretzel!
Favorite Quote
"I've learned that people will forget what you said, people will forget what you did, but people will never forget how you made them feel."
― Maya Angelou
Why I Love Dragonfly
Dragonfly provides me with the opportunity to challenge myself. There is a wonderful variety of classes along with caring, supportive, knowledgeable instructors and staff at every location.
Little known fact about me
I am an eighth grade teacher…which explains a lot.