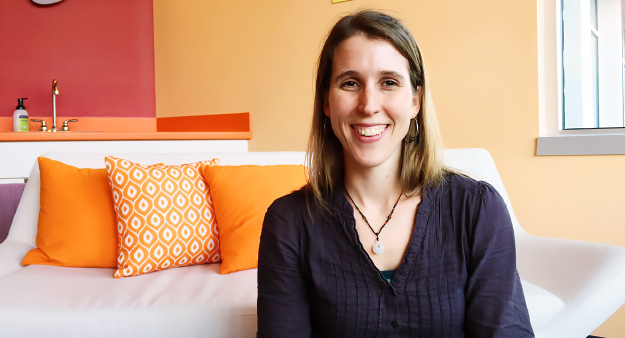 I got started at Dfly because I was looking for a way to just get moving more. I have a 3-year old daughter who occupies most of my time, so I was looking for something that was close to home or work and easy to get to. The Introductory Month allowed me to try lots of different class offerings and the early morning classes very quickly became a part of my routine!
Before Dfly, I did not have much yoga experience. I had thought that it would be great to work yoga into my life, but had never done anything about it. I always felt intimidated by trying to join someplace new. The welcoming, yoga-for-all atmosphere at Dfly definitely caught my attention in a way that had not been the case at other studios or gyms. And now, with the heat, I am hooked. I wonder how I will ever be able to go anywhere else.

I really enjoy attending Dfly classes. I always feel energized and ready for the day! I also really enjoy the method that the instructors use each class, reminding us always of the details of the poses, and to push (or not push) to what your body needs. It seems like the classes I take always have people with a variety of yoga experience, fitness levels, etc. and it makes for a welcoming atmosphere. It has been a really positive experience for me to learn when I can push myself and when to hold back. The idea of listening to your body is something that really resonates with me, and classes at Dfly reinforce that idea.
I just feel better overall and more energized on days that I go to class. I have gotten a lot of my strength back and have better balance than I have ever had my whole life. I feel stronger, more confident, and even have better posture. I take the early morning classes and go straight to work, and I used to be sleepy and slow to get started at work, but now feel ready to face the day.
I love all the classes because each teacher brings something different, but they all make the class so that everyone can get what they need out of it. I really love Colie's Yoga Up classes. I am amazed that she works through everything right along with all of us and can get everyone in the room to smile even in the middle of a cardio burst when we feel like we are about to collapse.
I am really glad that Dfly opened at such a convenient location downtown. I don't have a lot of time that I can take just for myself, and am so grateful each morning that I get to spend at Dfly. It is really remarkable to have a place where I don't feel self-conscious at all, where everyone is welcoming, and the instructors and staff truly want to help. Natalie and all the early morning instructors are so awesome. I wouldn't normally want to see anyone at 5:30am, but they make it easy to get up and get to class. And now I think my body craves the heat!
Studio Manager and Instructor, Natalie: "Anne brings a positive energy bright and early each morning. She comes to class ready to challenge herself and choose what she needs for that day. I am always inspired by her dedication to her practice and her commitment to being the best version of herself. She has been such a joy to have with us since we opened in July!"