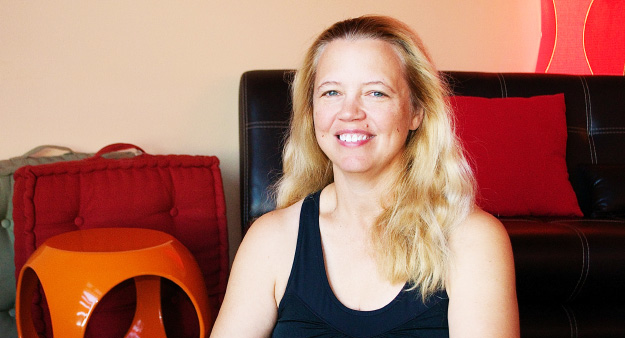 The one month unlimited yoga special last December brought me to Dragonfly and I tried at least 9 different classes during that month.
I used to live in Connecticut where I just happened to live within a couple miles of a Bikram Yoga Studio. I spent a few years practicing Bikram yoga there before I moved back to Wisconsin. I had gained a love and appreciation for hot yoga because after I left Connecticut, I used GAIAM videos at home and it just was not the same.

I always feel uplifted when I am done with a class and I see a significant improvement in both my strength and flexibility. I usually attend about three classes a week and my favorite class is Fire.
Four months before I started doing Dfly yoga, I had a tumor removed that was more than ten pounds in weight. The removal of the tumor also involved a hysterectomy. I was blessed that the tumor was benign (meaning no cancer). Through the time I carried the tumor and as a result of the surgery, I had lost a lot of core strength. Dfly yoga has been part of my recovery process to regain my core strength and return to full health.
Instructor Lynn Lanning: "Marcy is indeed an inspiration! For almost a year now, I have had the pleasure of watching Marcy continue to grow in her practice – particularly in FIRE as she has made this class a regular part of her weekly practice. Each and every week, Marcy brings such positive energy, drive and determination along with her willingness to share her experience with others just beginning in their FIRE practice. She has indeed encouraged and inspired us all! But what stands out to me most is how Marcy always comes into the studio with the warmest, most beautiful smile that instantly brightens the day! Congratulations, Marcy!!!!!!!"