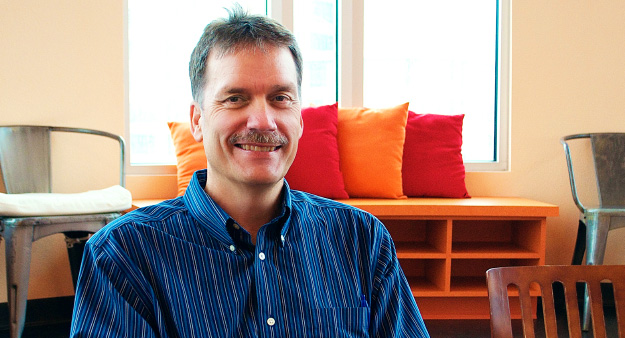 I was taking classes at another west side health club and heard that Dragonfly was opening up. A sister and a co-worker were going to Dragonfly and recommended that I give it try. At the time, I was looking for a yoga studio that offered a fun atmosphere, more types of classes and class times that met my needs. The place that I was going didn't have many options in the evenings and weekends.
Once I started going, I was surprised to see some familiar faces in the classes. I was really excited when I saw Carrie Johnson was an instructor. I started going to Carrie's classes in 2005. She's one of the individuals that really helped me recover after an injury which has prevented me from ever running again among other activities. Another familiar face was Suki, who I had taken classes from in the past too. The instructor's teaching approach makes it FUN to come to classes. They are very helpful and make sure that you're doing the poses correctly, and they explain the poses and take the time to understand any limitations that you have. Also, they take the time to learn the names of the students.

As noted earlier, I've had an injury that prevents me from doing specific poses. My Physical Therapist has given me specific direction on the do's and don'ts that I've been able to work into my poses with the help of the Dragonfly instructors. I go to at least 3 BarreAmped and 3 Flow/Yin classes per week. Of those class types, I don't really have a favorite. Each offers what I need to help compliment my cycling activities with core strengthening activities and relaxation after a long day at work.
I find that Yoga and cycling are great activities that help add balance to my life while providing the benefits of strength which help me enjoy time with my family and outside activities of cycling and sailing. On occasion, I do get to enjoy Dragonfly classes when one or more of my three daughters are available to join me. We're working on their mother next to join us now.
Every year, I take on the challenge to do week long cycling tours with recent trips in Spain and France. This year's trip is Ride the Rockies in mid-June with riding 465 miles with 41,000 feet of elevation gain over 7 days.
Instructor Carrie Johnson: "I had the pleasure of meeting Gary and having him as a Pilates client many years ago. He has always been very committed to exercising, building strength and maintaining flexibility. Today I'm grateful to have him as a Yoga student at Dragonfly. He has added more to his repertoire of maintaining his health and well-being. Gary takes Barre, Flow and Yin and he wears a great attitude to each class. He is Dedicated and Devoted."