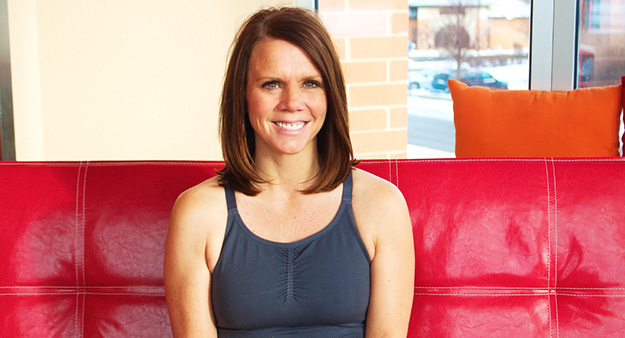 I started at Dragonfly a few years ago with the Fire classes. I really enjoy the heat. Although I loved the classes, I wasn't able to make them part of a regular routine, that is, until this past June. I was able to take a 6:30am Yoga Up class with Kim. She is fabulous and I loved the class. Unfortunately, my schedule only allowed for really early morning classes, so I started taking Flow at 5:30am. I fell in LOVE with this class, the teachers/staff and fellow students.
Prior to becoming a Dragonfly member, I started with hot yoga back in 2008, taking the occasional Bikram/Fire class.

The staff, teachers, and energy here at Dragonfly are what keep me coming back. I love walking through the doors because I know I'm going to be met with a smile and a sincere welcome. Once I'm on my mat, I know the teacher, regardless of who it is, is going to honor my practice. The teachers genuinely care about making this the best experience possible. I always feel comfortable and accepted. I love the energy I feel when I'm here and it's something I take with me when I leave. I appreciate the variety of classes and times offered. If I have some free time throughout my day or in the evenings, I'm always able to find a class.
I can't begin to tell you what practicing at Dragonfly has done for my well-being. I started my spiritual journey in 2008 taking a Spiritual Mastery class for 7 months. We explored each Chakra one month at a time. Peeling off the layers and getting down to our authentic selves… LOVE! It was amazing and life-changing. After starting a daily yoga practice, everything came together. It's this amazing mind/body/spirit connection. It's really indescribable. It brings peace and acceptance to my day. My morning Flow classes have become my morning mediation. After practicing daily for 5 months, I'm beginning to focus more on my breath and that has completely changed my practice. I'm no longer concerned with arm balances and inversions or keeping up with my neighbor. I'm honoring MY body and MY practice and I'm at peace with that. Each day I learn something new and that's what I love about yoga, you're never done. There isn't an end. It's a practice… and you have your amazing days and not so amazing days, and either way, it keeps you coming back.
I practice Flow daily in the early morning. I love starting my day with Suki, Tola, Matt, Will and Brenda! I also like to add an afternoon Flow/Core Flow or Yoga Up with Tiffany, Kaila and Michelle. I honestly love ALL the teachers at Dragonfly. They have many wonderful gifts and I'm so grateful they are willing to share their beautiful practices! I appreciate the differences each teacher brings to the same class. I practice with Suki 3-4 times a week. She has incredible depth and authenticity in her practice and she enjoys sharing it with her students. She teaches you to feel the pose, to feel the transitions in and out of the poses and to feel your breath. She teaches from her heart. I also really enjoy my once a week Flow class with Matt "chaturanga" Kaiser. ;) You are guaranteed a lively Flow class that will leave you feeling empowered. Will has this calm and kind nature about him. I always feel so centered after his Flow class. Brenda has a soft and gentle presence in the room. I like how she keeps you in the poses. It's a very soothing, yet challenging class. I've also had the opportunity to take several workshops and a private with Michelle. Michelle is SO enthusiastic about sharing her beautiful practice. She taught me the correct alignment of some poses and ways to enhance them. She has so much to offer. Tiffany is so strong and radiant. She has an amazing energy that you feed off of. This energy gets you to try the things your mind says NO to. It's really amazing. I love any class with Kaila. She is so focused and driven. Simply one of the best teachers I've ever had.
Thank you to all the staff and teachers at DragonFly. I'm SO happy to be part of this awesome family!
Instructor Suki Warda: "Shanna is such a wise and strong yoga practitioner. She brings a lot of strength and super sweet energy to class. I love having her because her presence lifts everyone up. Her skills in listening, body awareness and asana are truly advanced, yet her humility keeps her deeply grounded. Thank you Shanna for your Grace." Xo, Suki