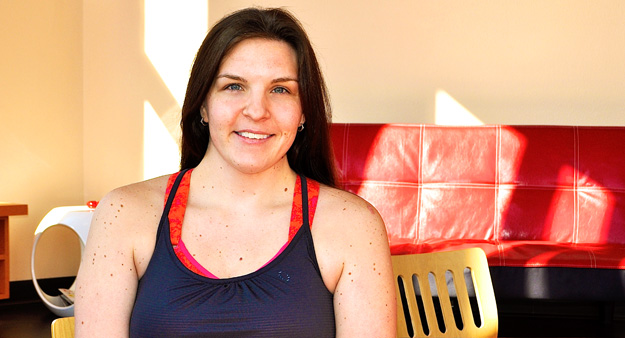 Last spring was a very difficult time in my life. Between complications at work, stress at home, and trying to complete a Master's degree, I needed something that I could do that would help me cope with all of the anxiety in my life. My usual go to workouts–playing volleyball and training for triathlons, was only adding to the stress and anxiety that I was feeling. I decided to give Dragonfly a try to see if yoga was what I needed.
Before Dragonfly, I had limited experiences with yoga. I had taken a few classes here and there; however, I had never practiced yoga with any consistency or serious intentions.

I love everything about Dragonfly! I love the accepting, open environment, the welcoming and friendly staff, and the variety of classes that Dragonfly has to offer. What I love most about Dragonfly is the way that it makes me feel. Practicing yoga has completely changed the way I look at my life and at myself as an individual.
Since I started taking classes, I have definitely experienced some major changes, both physically and mentally. Physically, I have gained a lot of muscle. I love that I have muscle definition in my arms and legs, and for the first time I actually have noticeable ab muscles! The physical achievement that I am probably most proud of is that when I started I was not able to do a wheel pose. Now I can hold a one-legged wheel pose on either side. Now, this pose is one of my favorites because it was the first major yoga goal I was able to achieve! Next goal…a full handstand!
The mental benefits I have experienced are just as significant. I have a much more positive and optimistic outlook on life, I experience a lot less anxiety than in the past, and things that would bother me before are not worth my attention now. Most importantly, I have learned to accept and love myself, just the way I am.
I try to attend one to two classes at least five to six days per week. My favorite class really varies based on what type of mood I'm in. If I'm feeling fun loving and powerful I take Kim's BarreAmped class (she always has the best music to sing along to); if I'm feeling determined I head to Joe's flow class; and if I feel like relaxing and increasing my flexibility I sink into Michelle's aroma yin class.
Dragonfly has really changed my life. I'm so thankful for everything that Dragonfly has taught me and I look forward to continuing to share my practice with the awesome Yogis that practice right alongside me. Namaste!

Instructor Kim Guenther: "I am always thrilled to see Joy in my class. She brings energy and enthusiasm, which I love to see in my students. She's willing to work hard, but has a great time doing it. Oftentimes I see her singing along during our class, which lightens the mood for everyone! My main goal is for people to have fun during class, and Joy brings it every time she comes! She's a great role model for those new to barre!"