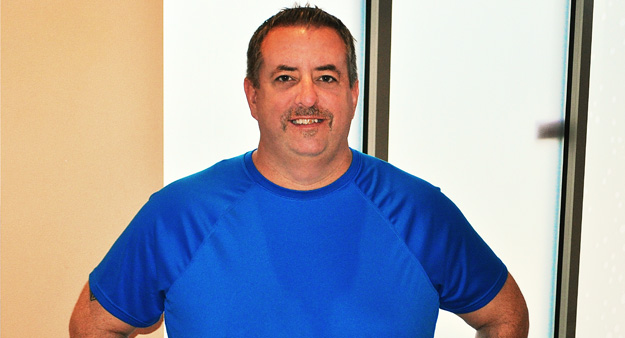 In the Fall of 2012, I lost a really good friend to a rare blood disease. He became my incentive to live healthier. I started by using Advocare and a workout/yoga DVD at home. A year later, I hit a plateau and was getting frustrated.
I was at a Badger tailgate with Katie Zick and I was telling her about how frustrated I was with my weight loss progress. She suggested Dragonfly Hot Yoga. Of course, my first response was "HELL NO!". She explained why she loves Dfly and also told me about how nice everyone is from the instructors to the people in classes.
From my first visit I knew it was right for me. I met Tola (studio manager) and Matt (instructor) on my first visit and got a great vibe from both of them. My first class was with Suki and it was hard. Then Lindsey Zick and Teresa Zick told me about the MadPower class with Amy Sanborn. My first class with Amy was so difficult I felt like throwing up, but I knew this was the class that would help my body. I then started trying different classes to see what else yoga had to offer. Then, I fell in love with the Yin class that Carrie Johnson teaches. It is a wonderful class that helps my body with stretching and flexibility.
Dragonfly has changed me both mentally and physically. I am more mentally focused when I leave Dragonfly. I am reading and learning more than I ever have about healthy living. Before I started at Dragonfly I had lost 40 pounds. In just four months here, I have dropped 60 pounds. I am using Dragonfly to reach my goal of 150 pounds of total weight loss.
I'm attending classes 5-7 days a week. I know Dragonfly Hot Yoga will be in my life for a very long time. Dragonfly is a very unique community full of wonderful people. I've introduced other friends to Dragonfly. Everyone that comes to class with me loves how there's no judgment. You do the best you can. As each instructor says, "This is your class and take what you need from it."
Instructor Amy Sanborn: "I love Mike in Power. He approaches every workout with focused determination which in and of itself is amazing, but what I find even more inspiring is Mike's ability to make everyone around him feel accepted and welcomed. I am proud to know he has become a really integral part of our Power gang."