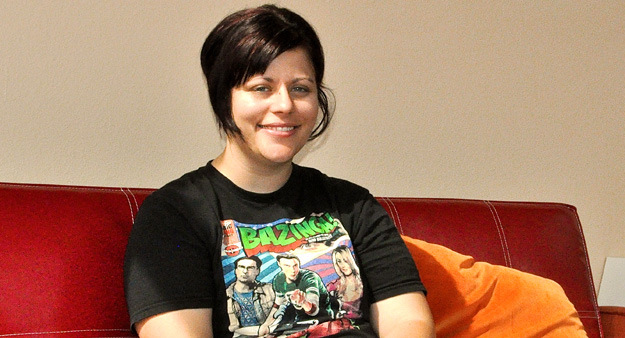 I was looking for something I could commit to because the gym just wasn't motivating me to stay active. I was unsure at first because I hate being hot. Boy, am I glad I did not listen to myself. What I enjoy most about the classes are the teachers. Everyone has their own personality and energy that they bring to class and no class is the same.
My mood throughout the work day has changed drastically. Most days, I would have a lot of tension and frustration when dealing with many different types of people. Now I can relax and not let things bother me. I also smile more!

I like to take a class or 2 each day. Oh boy, my favorite class? That's a hard one, there are so many! I would have to say Sunday morning Fit. Tiffany brings so much energy and fun to the class. I always look forward to it. I also love Amy's Madpower class because she does a great job of kicking my butt. In terms of a yoga class, I would have to say Amber's Flow class. She has a great personality and makes the class relaxing but challenging. And even though the class never changes, I love Michelle's Fire class.
Dragonfly is such an inviting place. I always look forward to going, chatting it up with Ms. Tola (Dragonfly Studio Manager), and getting a great workout. Hot yoga is truly an awesome workout and really helps with my running. After a great Fire class with Michelle, I can go and run 4 miles without feeling so sore afterwards. Also, I am glad when you sign up for classes that you only have an hour before class to cancel. I am pretty bad at changing my mind at the last minute. But with Dragonfly, I have to commit! I love it!
Instructor Tiffany Geier: "I absolutely love having Michelle in my Fit classes! She always comes ready to work, and I see her pushing herself more and more each time she comes. As Michelle's strength continues to grow, it makes me realize how lucky I am to be part of her Dragonfly experience!"