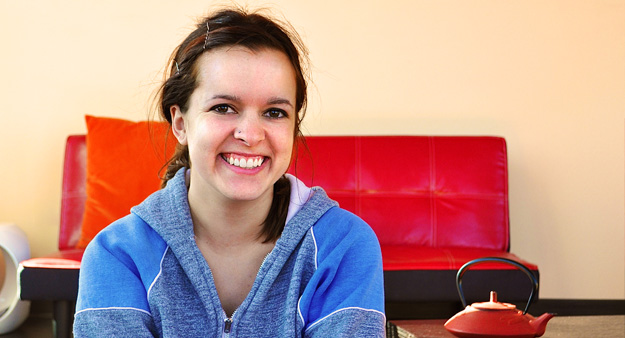 Prior to Dragonfly I had only taken one yoga class; I've always been interested in yoga but never really got around to actually joining a studio. One day I just decided to finally go for it and after looking around at local studios I found that I liked what Dragonfly stood for the best. I have never been very coordinated, so I liked that it was a studio for all levels.
I like how friendly everyone is and how all of the instructors add elements of their own style into the classes and the variety of classes offered.

Since starting at Dragonfly I have noticed that my body feels more open and my sleep has improved greatly. I do about 6 classes a week. I don't think I could pick a favorite. I really like Flow, MadPower and BarreAmped classes; they all challenge me in different ways.
Instructor Amy Sanborn: "If Lindsay was an animal I think she'd be a cat. She's beautiful, has great balance and flexibility, is both light on her feet and very athletic. She adds great positive energy to class and I feel very fortunate every time she takes one of my power classes!"
Instructor Carrie Johnson: "Her adorable presence and energy makes each Yoga and BarreAmped class very welcoming. I love having Lindsay as a student."