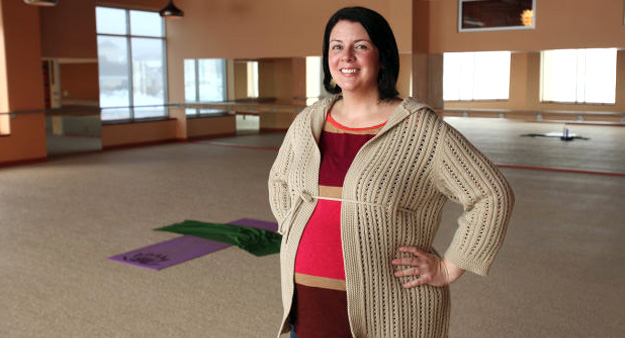 Dragonfly owner Megan Ryan Kaiser was featured in Monday's edition of the Wisconsin State Journal as part of their Emerging Business Series!
Check out the article here:
Yoga is hot at Dragonfly Studios
We also want to share some of Megan's responses that didn't make it into the article to give you a better idea of what Dragonfly is all about and how it started!

How did you get into this line of work?
I discovered Hot Yoga while living in Los Angeles, CA. I was working as a Casting Producer for ABC's Extreme Makeover Home Edition and the job really took an emotional toll on me. I was working closely with families that were going through rough situations (children with terminal illnesses, a parent passing away leaving behind a spouse and small children, etc.) and these families looked to me for hope–not just hope for a new home, but a new start. I ultimately had to tell most of "my" families that they were not chosen for the show. The stress was intense and I remembered someone telling me that Hot Yoga got them through a personal tragedy–it helped them find a sense of calm. There was a hot yoga studio right down the street from my apartment and I finally gave it a shot. I should state that I come from a very sports oriented and competitive family. The idea of doing yoga was laughable. I was very surprised at how fast I got hooked and the physical and mental benefits were almost immediate. When I relocated to Madison, I was disappointed to find only one hot yoga studio and it wasn't convenient to get to from my home. I missed practicing. After my husband was laid off in 2009 and I was 6 months pregnant with my second daughter, I got to the point where I thought, "This is rock bottom. We have nothing to lose and if it works out, great! If not, no regrets". I've always been somewhat of a risk taker. I ended up being introduced to a friend's brother who had a business background and his MBA. We started working on a business plan and after about 6 months, I started banging on bank doors–I had many shut in my face. Finally, I found a bank who decided to take a chance on me and we were able to get a SBA loan.
Where are you from originally?
I was born outside of Philadelphia, but moved to Madison as a baby and lived here until I was almost 9 when I moved to Platteville, WI until I was 18.
I understand that you opened your studio in Fitchburg and shortly afterward had to expand to a second location. Can you provide details about how you had to expand so quickly?
It wasn't my intention to expand so quickly, but opportunity arose and we jumped at it. I really wanted a location near Middleton and I knew our brand and business philosophy was the best fit for that area as it is for the Fitchburg/Verona area. I suppose my competitive/risk taking nature had something to do with it. We were filling our classes at the Fitchburg location and we weren't meeting the demands of our clients. When that happens, you have to make changes, you have to fulfill the needs of your customers. Also, it is unbelievably satisfying and rewarding to provide people with jobs. I am so grateful to my instructors and employees and I wanted to create more income potential for them as well as another studio for them to grow and learn and give back to the community.
What motivates you?
Wow. This is a tough one because there are so many answers. When it comes to the business, our customers are my biggest motivators. I see, firsthand, people conquering their fears, changing their lives, opening up to possibilities (new careers, new love, new hobbies, etc.), and making an effort to be a part of this community. I see people coming to take class hours after a chemotherapy treatment. I see people with severe arthritis and other inflammatory conditions find relief. I see women and men going through divorce or cancer diagnoses, or other traumatic events find a way to cope. I see this every single day. When I feel like the stress of owning two businesses is too overwhelming, I think of my clients. If they can find a way to get up everyday and persevere, so can I.
What did you do prior to this job?
I spent the last decade working as an actor and television and casting producer in Chicago, Los Angeles, and Minneapolis. I am also a voice over artist and have done several radio and television spots. It's one of my favorite things to do.
What kind of skills are needed to perform your job?
You need to be patient and you need to be genuine. You need to have the ability to be your own customer in order to provide the best services you can. That gets hard when you have several employees, so communication is important. You also need to have the ability to let things go–you can't control emotions or irrational people, so you have to recognize what you can make better and move on.
Where did you go to school and what degrees did you earn?
I did my undergraduate work at UW-Madison (1994-98) and received my BA in Theatre Performance and I did my graduate work at Purdue University (2001-2004) where I earned my MFA in the Professional Actor Training Program.
What do you find most rewarding about owning your own business?
I have met such wonderful people and seen such amazing physical and mental transformations. I have also learned so much about business, relationships, and myself, which is invaluable. Sometimes I will sit in the parking lot at 6:30pm and watch students coming out of the 5:30pm class and students going into the 7pm class. I see them with their gym bags and yoga mats and think, "Wow. This is unreal. I created this, but this place is theirs." I've never once stood in my businesses and thought, "This is mine. I own this." From day one, I've felt Dragonfly is for us all. That is very rewarding. The loans/debt, though…yeah, I own those :).
What is the most challenging aspect of owning a business?
The most challenging aspect of being a business owner is managing people and coming to terms with knowing you can't make everyone happy. I try though, I really do. I take every complaint (there aren't many) to heart and I can allow it to affect my mood. I am getting better at the letting go part, but it is challenging for me and it's a daily struggle.
What does someone considering coming to your studio need to know?
Know that you can do this. Know that everyone you see here has been a novice and that most of our clients had never done yoga prior to coming to Dragonfly. Know that we are here to answer your questions and encourage you. Know that my mom had never done yoga, hates being hot, and wasn't thrilled about me opening Dragonfly. Know that she now owns a yoga mat, a hot yoga towel, yoga clothing, comes a couple times a week, and is our biggest promoter. Don't be scared of the heat–even if you hate it at first. Give it a chance and you will glad you did. Check out our new student guide!