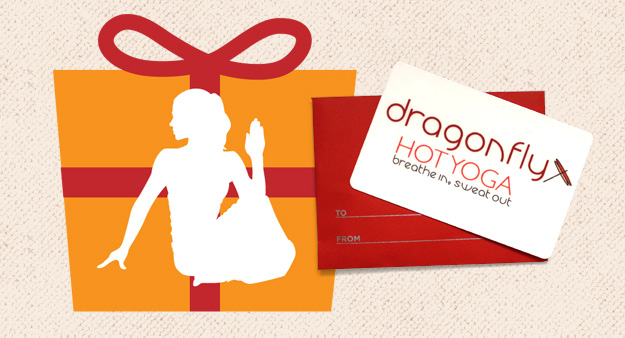 Hot yoga balances the mind and body – it's the perfect gift for your friends and family! Stop by the front desk to get them or buy them online. To sweeten the deal, all gift cards are 10% Off until December 25th. Dragonfly Gift Cards can be spent like cash on any of our products or services!
Some great ways to use a Dragonfly Gift Card
1. Get an intro month of yoga for your loved one!
2. Dfly apparel (have you seen our new hoodies?) or yoga gear
3. Take one of our upcoming workshops or special classes (We've got a lot of ideas for 2013!)
To get the discount use code GIFT10 at checkout.
Gift cards can be redeemed over the phone or in person at either studio. (Sorry, gift cards can't be redeemed online.)
Buy Gift Cards >