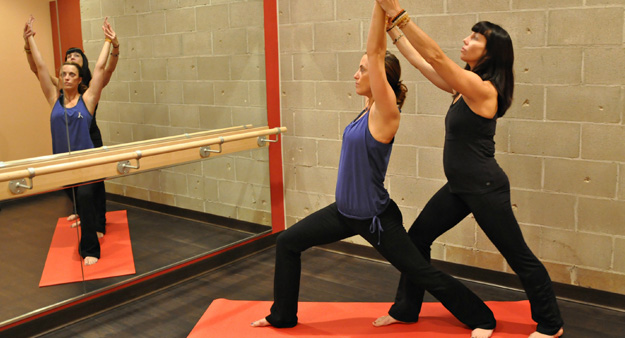 Personal training sessions at Dragonfly are more than just private yoga sessions. Although we can accommodate people who want to fine-tune their yoga practice, we can offer other things such as relaxation, meditation or anything else the you want. For instance, if the you want to incorporate Pilates or BarreAmped into your session, we have trainers who can accommodate that request. We encourage you to get creative!
We will use our beautiful private yoga studio at the Middleton location or if there are no classes going on we can use the larger studio in Fitchburg.
To schedule a private session, simply go to our online scheduling page, click on the Personal Training Sessions Tab and then follow the directions.

The cost for a 60 minute session is $60.00 and $30.00 for a 30 minute session.
So let's have some fun…
Top 5 Reasons to schedule a personal training session:
#1 You can fine tune your yoga practice. Have you been wanting to try an arm balance pose and were a little nervous to do so in a crowded yoga room? Here's your big chance!!
#2 Protect yourself from injury. In our personal training sessions a qualified instructor will show you how to get in and out of yoga positions or other exercise positions in a safe and healthy way that is best designed and suited for your body and your body's needs.
#3 You can finally ask questions that have been pestering you during those crowded yoga classes. Ever wanted to know what "chaturanga" means? You can find out some of the philosophy behind the yoga moves or talk a little bit to the instructor about their training and background.
#4 Personal training sessions are a wonderful way to pamper yourself and give yourself that TLC that you so deserve.
#5 Add variety to your practice. I am sure we've all been in that exercise routine where after a few months we don't see results anymore. The personal training sessions can help get you past that plateau and keep seeing the results that you want in your practice.