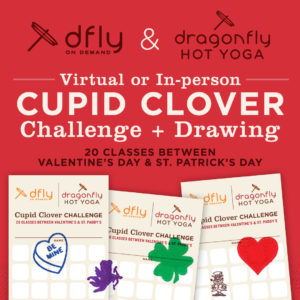 Get a Chance to Win A Dfly Retail item of your choice!
Cupid Clover Challenge
Complete 20 Classes between February 14 and March 17, 2021
In-person, online, or both!
Yes it's time for another Dragonfly holiday mashup challenge – virtually and/or in-person! Join the Cupid Clover challenge to help you stay motivated and feeling great these last few weeks of winter and staying at home. Can you do it? Join us as we welcome spring and start getting back to a new and better normal.
Grab a card at the front desk, or screenshot our challenge card from our facebook or instagram posts, or download a challenge card here and get started February 14!
You can take all virtual classes at dflyondemand.com, or attend in-person, or a combo of both! If you are taking class in-person, get your card stamped with one of our holiday stamps after class. Attending virtually? Fill out the squares yourself after you attend!
Once you've completed your challenge, hand in your card to the front desk, or email a photo or screenshot of it to info@dragonflyhotyoga.com. All finished entries will be entered into a drawing for a free Dfly retail item!