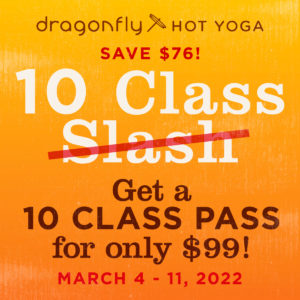 Get 10 Class Passes for only $99
March 4-11, 2022
Up to 43% Off Our Regular Rate
Limited number available!
Grab your nearest and dearest and celebrate 10 Class Slash week! Click now to get a 10 class pass (or two!) for just $99. It's the best deal in town! Spring is just around the corner (promise!), and we want to help you get through these last couple months unpredictable of Wisconsin weather with a big sale. :D
Get $76 off our usual 10 class pass price!
Buying these passes not only gives you a great deal, it also helps ensure Dragonfly continues to be here for you. As you know, we are locally owned and operated, and have poured our hearts, souls, and financial futures on creating this oasis for our community. We have so much gratitude for all your support!
Passes expire 6 months from date of sale
Limit 2 per person
Sale ends March 11 at 11:59pm
These slash passes expire 6 months after date of sale, no exceptions. Limit 2 per person. Passes are used in the order they are purchased. If you have other passes on your account, they will be used first. May not share or transfer Dragonfly passes. May not combine with other offers/coupons, and no refunds. Passes are good for any regularly scheduled Dragonfly class at any location. Please call 608-203-9000 to purchase for someone else. Sale dates: March 4-11, 2022