Dragonfly and the Progress Center are working together to increase access for people of color to yoga and fitness in Madison, facilitate conversations on inclusivity, and develop opportunities for yoga teacher training for underrepresented folks.
Just Flow Free Yoga Classes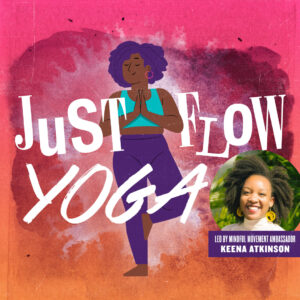 Dragonfly and the Progress Center are offering a free monthly class for people of color led by the Progress Center for Black Women's Mindful Movement Ambassador Keena Atkinson! Each class includes a 1 hour yoga class and time to meet and mingle afterwards.
Please note that the 1hr yoga session is hot yoga. It's suggested that you wear light and comfortable clothing, as well as bring a water bottle, towel, and yoga mat (if you have one). (Mats, towels, and water will also be available)
Questions? Email hello@centerforblackwomen.org or call 608-467-6744
Progress Center x Dragonfly Partnership savings
The Dragonfly Hot Yoga x Progress Center for Black Women partnership includes two great savings opportunities!
Free Intro Month
Progress Center members are eligible to get your first month of Dragonfly classes for FREE! ($170 value). Email info@dragonflyhotyoga.com to redeem
10 Class Pass for $99
Progress Center members can also get a 10 class pass for only $99 ($235 value)! Email info@dragonflyhotyoga.com to redeem
We are so glad to have you a part of our yoga community!
Questions?
If you run into any issues, please email us at info@dragonflyhotyoga.com and we will get it sorted for you!
Fine print: Free intro month includes unlimited yoga, fitness and barre in-person classes at 4 Dragonfly locations for one month. Your month expires 30 days after your first class. 10 class pass expires 1 year after purchase.
Cannot be combined with other offers. Limit one discount per customer, one account per person. Multiple accounts will be merged.