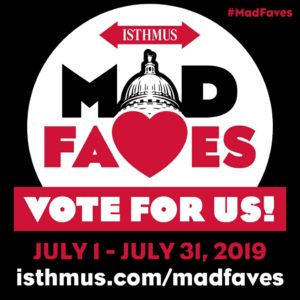 Isthmus Mad Faves Voting Contest
Voting Period: Now through July 31, 2019
Spread your Dfly and Flyght love with our Isthmus Mad Faves Voting Contest! Thank you for the support!
The Contest: If both Flyght and Dragonfly win 1st prize in the Isthmus Mad Faves poll, we will give one lucky entrant free classes at Dragonfly for 3 months!
How to Enter: Go to isthmus.com/madfaves and write in Dragonfly Hot Yoga (under Favorite Yoga Studio) and Flyght Cycle (under Favorite Specialty Fitness Studio) for Isthmus Mad Faves! Please note: You can only vote ONCE. After you vote, email bestof@dragonflyhotyoga.com with subject line "I Voted" to be entered for a chance to win!
Vote for us in the Isthmus Mad Faves Poll and get a chance to win! We love you Madison! Winners will be announced by September 10, 2019.